I'm joining the party this week!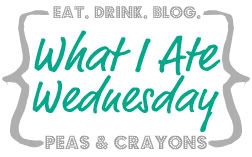 For breakfast:
Zucchini Bread Oatmeal - I made this last night from a recipe on OhSheGlows.com. It didn't taste exactly like zucchini bread but it was similar and I love having veggies in my breakfast but not tasting them! (Kinda like a Green Smoothie!) I added a peach & a spoonful of pb.
Plus a mug of Pomegranate White Tea from my favorites store, Trader Joe's!
For lunch:
Massaged kale salad w/ EVOO, balsalmic vinegar, garlic powder & s&p, plus carrots & chickpeas. On the side, a slice of homemade cinnamon raisin bread topped with peanut butter.
For snacks:
Pineapple in the morning and a peach in the afternoon!
For dinner:
Guacamole & Bruschetta (by Mckensie & Dan, our fabulous hosts!), Kale chips (we brought these), & Yuengling Lager (from Charis).
Thanks for hosting us! You made my What I Ate Wednesday post so much more interesting!